We've spent this week taking a look at the idea of using In-Ears in a worship setting. We've had some great posts by guest blogger Jake Sumner on the subject! (Make sure you find Him on Twitter and follow His personal blog here)  In this post we are taking a look at the next step in the process, In-Ear Monitoring Systems. I'll take a look at a few that I've personally worked with and present you with a few options. I'll take a look at 3 different Categories of Monitoring Systems:
1) Personal Monitoring Systems, 2) Wireless Monitoring Systems, and 3) Personal Mixer Monitoring Systems.
Personal Monitoring Systems
If you've stepped foot into a church in the last 5 years you've experienced personal monitoring systems. It's not uncommon to see bands on stage with blue boxes by their side and having a guitar player reach down and adjust settings during the service. Personal Monitoring Systems have become more and more popular with Churches because it provides musicians with the Ultimate control over their In-Ear Mix.
Avioms ($5000+)
Avioms are by far the standard in Churches as far as Personal Monitor Systems go. They really are a great idea, in that each musician can mix their ears exactly the way they want to and adjust their mix when necessary. You by default get 16 channels to work with to build your mix. Perhaps the greatest win when your using Avioms is the ability to "save" mixes. If you use multiple musicians or bands this allows each band to have a starting default mix to work with. If your in a Mobile Enviroment its a must have because you WILL lose power and when you do you WILL lose your mix settings. I always enjoy using Avioms when I lose power, because I just smile and chuckle to myself as everyone else freaks about re-building their mix and I simply recall my mix and move on. Avioms do their Job Well.
Hear Backs ($1495+)
If you're a smaller church and you don't have the budget to go with Avioms, Hearbacks may be the way to go. You don't have as many mix options You get up to 8 mix sources and then the ability to blend in your own instrument in the mix. If you have a smaller band and have the time to try a few setups to see what works best for you, Hear-backs will be awesome. I've spent a summer traveling with Hearbacks and they held up to the setting up and tearing down. I can speak from personal experience they hold up well to a good stomping! I've stomped one off a mic stand and it flew 10 feet in the air, crashed to the ground and still keep on running great. They will hold up to a good stomping!
Wireless Monitoring Systems
If you've got access to a great sound guy and you want ultimate mobility on stage, this is the way to go. It requires a flexible sound board, and great communication with your sound guy, but the results can be great and once you get a good mix in place its really pain free and allows for alot of movement. Here are a few go to standard In-Ear Systems.
Senneheiser ew300IEMg3 Wireless In-Ears ($1,199.95)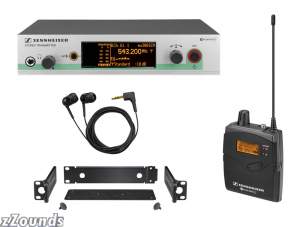 On the web.
Sennheiser hands down makes the best quality In-Ear systems on the market.  The sound will be presented to you very clearly. The packs are smaller which means they won't get in your way as much as other packs. RF issues will cause you to lose your mind when using In-Ears, so it's best to go with the highest quality you can when using Wirelesss In-Ears.  A Sennheiser system will do that!
Shure PSM200 Wireless In-Ears ($599)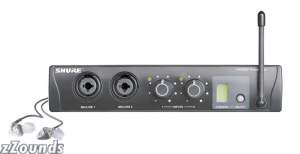 On the web.
I've worked with both the Sennheiser Packs and the Shure PSM Pack.  The Price is quite deffirince between the two.  In my experience the Quality is quite different as well.  If you've got the money I'd go for the Senneheiser, but if your on a budget and your looking to use these Ears in one place you could get by with the Shure's.  Shure obviously makes better quality In-Ears packs that I have used before, but I've spent more time with the PSM pack then their higher quality packs.  If your not traveling to different venues and you are going to stay put for the most part this pack would be a safe bet.  Unless you are interjecting new RF sources into situation you should be fine.
Personal Mixer Monitoring Systems
Using a Personal Mixer for your In-Ears is by far the most in-expensive way to setup In-Ears for a few members of your band. It's not the most flexible and it's not the best way..but if you want to get your drummer running on Ears, you can start now using a Personal Mixer right now and get some decent results.

Presonus HP60 Headphone Amp($299)
On the web.
Presonus makes great, clean sounding products. If your in the market for a Headphone Amp start with Presonus Products and compare everything Price-wise and Sound-wise to it. It's important when using Headphone Amps to make sure your going to get a clean/clear sound without alot of distortion and alot of headroom. Their Products are well-made and can withstand a beating, and the customer support is fast, kind and knowledgeable.
Mackie 402-VLZ3 4-Channel Ultra Compact ($99.99)
On the web.
Makcie Mixers are a personal favorite of touring drummers.  Its not uncommon to see a drummer open up their road case and have a metronome and a Mackie mixer attached to their board.  These Mixers are great because you can take your monitor send (straight from your sound board or snake) and plug it directly into your mixer and blend that with a metronome and then run your in-ears directly out of the mixer.  Being that you won't be "mixing" anything you don't really need faders, knobs will do just fine, which will save you money on your mixer!
Behringer XENYX 802 Mixer ($59.95)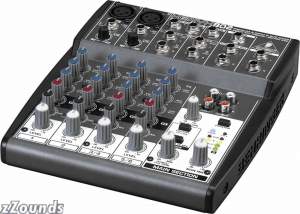 On the Web.
Behringer is known by some as the knock-off sound company. Their products typically resemble very closely other products. If you've used a Mackie mixer before you've used a Behringer mixer. You'll be able to get similar results for a little less money. I've used behringer products and gotten by just fine. It all comes down to personal preference in the end.
So these are just a few options when looking for a In-Ear Monitoring System.  I've worked with each of these options personally so I can speak from experience on them.  I've purposely left out a few options because I haven't worked with them, but lets discuss those below!
What Monitoring Systems have you used? What are you comfortable with and which ones have worked the best for you and your church? Leave a comment below and let us know!
About the Author:Will Doggett is a Guitarist and Worship Leader based out of NC. He spends most of his time running and blogging for Loops in Worship, as well as creating Custom Loops. You can reach Him by Email at will@loopsinworship.com and find Him on Twitter @willdoggett